Best Gymnastics Mats for Home Use (Updated for 2020)
When searching for the perfect in home mat for your gymnastic practice you have many options. In this article we hope to give you clarity on what type of in home gymnastic mat makes the most sense for you.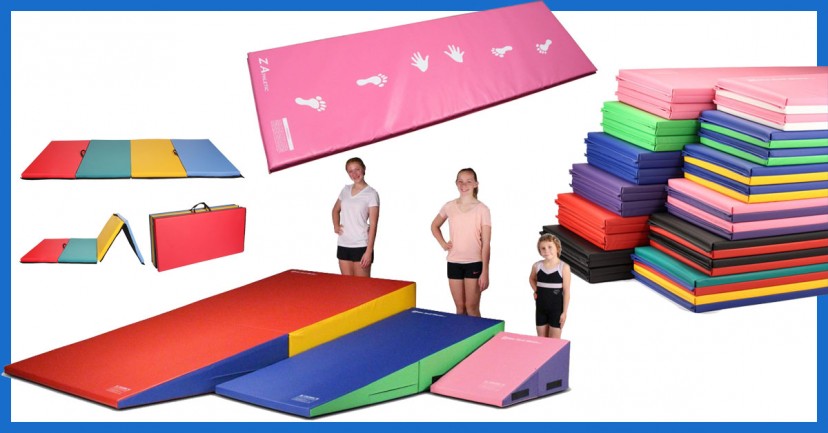 If you have an aspiring Olympic gymnast in your home you have probably discovered by now, that they are never not moving. You can expect it, soon most of your furniture will be used as some type of balance beam, jumping horse, parallel bars, or other apparatus. So if your gymnast has just started tumbling or if you have one with a few years under their belt, they will benefit from having gymnastic mats at home.
We all know that "practice makes perfect". Unlike the studio or gym where gymnast practice our home's floors don't have cushioned floors, and can be quite painful. The right gymnastics mats at will cushion the inevitable falls.
You gymnast will be excited about practicing which will give them a distinct advantage without getting bruised up or hurt.
Your gymnast will love to practice on their mat. In home gym mats are multi-purpose and are used for much more than basic tumbling. They can be used to practice rolls, walkover, handstands, and even cartwheels.
Many advanced gymnasts use these mats to practice front tucks and standing back tucks among other advanced moves. Of course these home gymnastic mats have multiple uses, they are great for normal horseplay, slumber parties, wresting matches & moms yoga practice.
Are you thinking about buying a mat for in home gymnast practice? (Here is what you need to Consider When Buying a Gymnastics Mat for Home Use)
If you are thinking about buying a gymnastics mat for home use to inspire the gymnast in your home, we feel they are a good investment. However ,you need to make several considerations before buying to make sure you get the perfect mat(s) for your situation. We have listed the most important features of home mats to consider to help you get the perfect mat you want and need.
Mat Thickness
The standard thickness for a home mat should be about 1 3/8 inch. A cheap thin mat does about as much good at protecting injuries as a bath towel on the floor.
A mat that is too thin won't provide cushioning and protection you want when your gymnast falls when practicing their routines. However there is such a thing as a mat that is too thick. If the mat is too thick, your gymnast may not be able to correctly practice stunts because their hands or feet will sink to far into the mat when they aren't supposed to. Standard mat thickness is around 1 3/8" thick.
Mat Dimensions
Before buying a mat, you need to think about where your gymnast will use it. You also want to make sure it is big enough for a gymnast to practice stunts on. Since mats are offered in a variety of different sizes, it shouldn't be hard to find the perfect mat that will fit in the location you have planned and will give your gymnast the space they need to practice.
Types of Gymnastics Mats You Can Get for Home Practice
The truth is all personal in home mats in a personalized area will inspire your gymnast to practice, A designated mat in a designated area reminds me of when I took piano lessons when I was a child. When it was time to practice, and didn't have to decide where, the piano was always in the same place. Does that make sense?

There are many different options to choose from when it comes to home use. The most popular mat types are described in detail below we feel you will find what you are looking for
Folding Mats or Panel Mats
One of the most popular gymnastics mats used in the gym and homes are folding mats. folding mats are offered in many different colors and sizes. They fold-up for easy storage. The most popular size is 4 feet wide by 8 feet long. This type of mat usually has Velcro attached on the ends, so more mats can be added to create a longer mat. They enable you to design a large custom practice area if you have the space in your basement or other parts of your home. If not, they can be stored easier then most people think.
Paneled mats are also often referred to as panel mats or simply folding mats. Whether the mat you are considering is a folding mat or tumbling mat, they will provide the same benefits. These mats are standard and practical and is normally offered in the same lengths and thicknesses.
The Tumbl Trak Folding Gymnastics Mat is our most recommended folding mat for our students. It has just enough padding for tumbling, no slip, easily folds up and connects together if you have multiple units, it's just perfect. You cannot go wrong with the Tumbl Trak Mat.
To allow your gymnast to perform a series of elements together, EXTRA LENGTH mats might be a better option. If you have enough room, this is the way to go. This mat gets our highest recommendation for a 10 or 12 feet long mat: Z-Athletic Gymnastics & Exercise Folding Mat, you can pick the size.
Cartwheel Mats
A cartwheel beam mat is a great home mat option for a beginner or young gymnast or cheerleader. This creative mat is created with proper hand and feet placement printed on the mat that guides gymnasts in the proper way to do a cartwheel. Even after the gymnast has perfected the cartwheel, the mat can be used to practice handstands and handstand rolls and other stunts.
Most cartwheel beam mats have a beam option as well. To use the beam option simply flip the mat over and you will find a practice beam. With this matted practice beam, a gymnast can practice beam balance skills and other skills that are normally performed on the beam. This is a wonderful mat with the beginning gymnast or cheerleader in mind. We love the balanced beam training option that many learning gymnast will find useful down the road.
The Z-Athletic Cartwheel Mat is best for beginner gymnasts. It has two sides guides for practice, hands and feet on one side and beam-line on the other side.It has a variety of colors to choose from.
If you or your gymnasts don't think they will need the hands and feet guide, (and may of them don't) then you might also want to consider We Sell Mats 2′ x 6′ Folding Cartwheel Tumbling Exercise Mat. The best thing about this mat is that it folds in half, so you will save more space for storage if that is needed. Also, the mat comes with velcro fasteners that will allow you to connect multiple mats for even longer runs. One of our students has five of these cartwheel mats connected from one end of their basement to the other. I was noticing such great improvements in her tumbling stunts, and just had to ask why. 🙂
Flexi-Roll Mats
A carpeted or flexi-roll mat is made to look and feel like a competition floor. This is the foundation mat for many in home gymnast work out rooms. If you have an aspiring gymnast in your home, and the space, this flexi-roll matt is the one we suggest you start with if you don't have the budget to build out a full work out room to start. Of course, it doesn't offer exactly the same feel because it isn't created with springs, but it is the best option for those that want to get comfortable with the feel of a competition floor at home. The best thing about a carpeted mat is that it can be rolled up and stored with ease.
Check-out flexi-roll mats on Amazon here.
Incline Mats
An incline mat is perfect for young gymnasts that are learning how to do rolls backwards or forwards. This type of mat can also be used for log rolls too. The great thing about an incline mat is it helps a gymnast create body awareness and lessens stress on the body while learning. We cannot recommend these mats strongly enough for the students we personally teach in our classes. If you put ten gymnast in front of me, five who practice at home with incline mats, and five that don't. Myself and most teachers can tell you immediately which students are practicing at home with an incline mat. Granted, the other 5 may have an incline mat, but as we tell our students, you must practice. "Practice makes Perfect"
We do not recommended for experienced gymnasts to use an incline mat for harder skills because of the risk of injury. If a gymnast is looking for a gymnastics mat for home use designed for more difficult skills, it's better to purchase a larger incline mat.
In terms of incline mats for home practice, our top choice is this Incline Mats by We Sell Mats. They come choices of color and sizes, so it would be easy to find a perfect match for what your gymnast wants and needs. No beginner in home gymnast studio is complete with out and Incline mats. Almost all our beginning students start with these mats, as they gain experience these mats are passed down to their siblings.
We Sell Mats are well-known for their quality, not only that their products can be commonly found in many gyms, but many parents are also very happy with their purchase for home practice. You can click here to see their selection on Amazon.
Gymnastics Mats are Investments that Make Your Home Safer and are Easy to Care for
A good gymnastics mat is going to cost a small investment but the benefits will quickly outweigh the costs. Even with hard daily wear, a good quality mat can be expected to last a very long time and even passed down to sisters and brothers.
One of the best things about this type of mat is that it is easy to care for as well. To clean a mat, you simply need to use a wet cloth and water to allow to dry. If you want to sanitize the mat, you can use a soft cloth and your favorite sanitizer to keep the mat germ free.
Encourage Gymnastics Practice in Your Home with a Quality Mat
One of the best ways to encourage your gymnast to practice at home is to gift him or her with a quality mat. Take the time to get exactly what you need and you'll never be disappointed with your purchase. Parent's continually express to me how the purchase of a mat get their little gymnast excited and motivated to practice.
Best Gymnastics Mats for Home Use
So to sum it up, below are best gymnastics mats we have mentioned above if you just want a more straightforward list: You should find the perfect mat(s) from this list, depending on the amount of space you have available for your designated in home gymnast studio.
1. Tumbl Trak: Gymnastics Folding Tumbling Folding Mat
Our most favorite folding mat. Not only good for tumbling, it's just a great all around gymnastics mat for home. High quality and very durable too. They last years even with heavy use.
2. Z-Athletic: Folding Panel Mats for Gymnastics, Martial Arts, and Tumbling
Similar feature to the Tumbl Trak Folding Mat, but they have longer mats. You can get a 10 or 12 feet long folding mat from Z-Athletic. Many gyms use these, but also great for home if you have the space for it.
3. Z-Athletic: Cartwheel Mat
The Z-Athletic Cartwheel Mat is best for beginners. The other side of the mat has a beam line to practice beam skills.
4. We Sell Mats: 2′ x 6′ Folding Cartwheel Tumbling Exercise Mat
Only has one side, but it folds in half for smaller storage.. The mat comes with velcro fasteners to attach multiple mats for longer runs.
Check on Amazon here.
5. We Sell Mats: Gymnastics Folding and Non-Folding Incline Cheese Wedge Skill Shape Tumbling Mat
Perfect for young gymnasts to practice rolls backwards or forwards.
Other Uses of Gymnastics Mats
Athletes use these mats for every imaginable. Gymnastics mats are not just for gymnasts. In fact, this type of mat can come in handy for many sports and activities. For instance many wrestlers, dancers, and cheerleaders make use of gymnastic mats in their home. The most popular type of mat for a wrestler, dancer, cheerleader, and gymnast to use in the same home would be the folding or paneled mat. Since paneled and folded gymnastics mats can be fastened together to make a larger surface, they are perfect for use for many different activities
Top 5 Most Popular Home Gymnastics Mats for 2020
Every year new brands and types of gymnastic mats hit the market. 2020 is no exception. Most of the brands and mats we have mentioned to this point have been used and recommended by teachers like me for a few years. I am confident you and your little gymnast will be thrilled with your purchase. I did want to share with you some of the new and up and coming mats for 2020 in case you have not yet found the perfect in home mat for your situation.
Best Gymnastics Mats For Home Use in 2020
Gymnasts push their bodies to the limits. They are constantly in a state of motion, jumping and turning, twisting and flipping — hoping their extensive practice pays off and they land perfectly.
However, with all that comes the chance of injuries. While minor bruises can often be (and usually are) ignored, serious injuries can ruin a gymnast's career, and the worst phrase a gymnast or someone they love can say is "We should have been using a mat", believe me, I have been dancing all my life and teaching classes since I was sixteen. Taking proper safety precautions is easy today. You can order your mats today and they are normally delivered within 3 days or less. Practicing without a mat is something I can't condone.
​Therefore, the most important consideration when tumbling is safety. When performing these acrobatic feats, gymnasts must use mats to protect them from mishaps and falls. A good gymnastics mat will provide cushioning and protection while a gymnast practices and perfects his or her routine.
This emphasis on safety doesn't end when practicing at home either. Just let me be clear, NO! Carpeted flooring is not enough. (This is a common question I get weekly from parents) A serious gymnast needs the proper equipment at home — just like a gymnastics bar for home, or perhaps the uneven variety — in order to truly flourish in the sport and stay safe.
Note: To do activities such as tumbling runs, over time you may need to get more than one tumbling mat. Most mats have a way to attach multiple mats end to end in order to elongate it. At Dancerholic one of our goals is to keep you updated and in the loop on the most important equipment for dancers, gymnast and all athletes.
The emphasis here is on safety, so a high-quality mat is important; but we also wanted to find cheap gymnastics mats that wouldn't break the bank.
WHILE I AM THINKING ABOUT IT. START YOUR GYMNAST EARLY
Parents ask me all the time, how young should a child be when they start learning gymnastics?

My advise is always the same, start them as early as possible. The best way to start them, before the formal classes we teach is with this phenomenal indoor gym set up for the youngsters.

​How Much Do Home Gymnastics Mats Cost?
A gymnastic mat for home use usually ranges in price from $75 to $200, with most products priced at around $100. Bigger name brands and higher-quality mats tend to hover around $150-$200, however. an additional cost is the fact that you'll often need to purchase more than one mat to provide adequate room to perform the activity safely.
It really depends on the space you have to work with and if the gymnast home study is going to be in a permanent location, which is ideal.

However, if cost is a major concern, consider starting with one mat and limiting yourself to low-movement activities to begin, and gradually adding more mats as you can afford them.
List of the Best Gymnastics Tumbling Mats​ 2020.
So, without further ado, here is our list of the top 5 best gymnastics mats for home use in 2020.
Gymnastic mats need to be thick, firm, and durable. For maximum effectiveness they should not sink too much when you tumble.
This multi-purpose folding mat from Soozier is a great product that can of course be used for gymnastics, but also for pilates, yoga, and even martial arts.
The durable leather cover and non-absorbent shell protect the foam inside and increase its life.
Velcro straps on both ends of the mat allow it to be connected to additional mats to increase the length for tumbling practice.
In reviews people have said great things about this product. For all these reasons, and the reasonable price tag, this gymnastics mat sits at the number 1 position on our list for new mats.
Perfect Mat for home use, and popular for Yoga and gymnastics. Made from 2″ high
density EPE foam, and made well.
Made from non-absorbent leather and has an anti-puncture service. I have not
personally tested this mat, but one of the instructors that works for me has. She loves
it and practices her Yoga on it daily. With a 60-day money back guaranteed, I felt I
should let Dancerholic visitors know about this new popular mat.
The manufacturer, Giantex, is a popular provider of a large variety of
gymnastic products for home use, and I trust them. These gymnastic
mats they sell have a consistently high customer rating online and from
our students.
Sewn handles make them easy to fold, carry and store. These mats
come in a great combination of pink and black, with a surface that
is easy to clean. If easy to clean and store is a concern, this may be
the perfect mat for you.
Velcro straps are present on all four sides for connecting to additional mats.
We recently had a student set up her in home studio with six of these
mats, I stopped in and check it out. The studio looks great and these
mats look awesome.
These mats are slightly thicker than normal, and could be used for
dance, gymnastics, Karate, and of course Yoga.
This gymnastic mat from Polar Aurora has everything you would want, as far as cheap gymnastics mats go.
The Polar Aurora brand is very popular with martial arts athletes.
A durable PU leather cover contains 2" thick foam sealed by a zipper.
It can be added to other mats from all 4 sides. The thick long lasting foam is quite firm, yet the mat is very light.
They do not provide a money back guarantee; however, an excellent customer service and quick replacement of faulty products (if any) more than makes up for it. This is a solid choice, especially if you are on a tight budget.
Give these mats a try if you're looking for a solid product at a price under $100.00
At number 5, we have the gym mats from We sell Mats. This is the first product in our list that comes in a huge variety of colors. Pink, blue, green…you name it they probably have it at We Sell Mats.
They offer different sizes for different age groups, the largest one being 4' x 10'. We have been using these
mats in our dance and gymnastic training studio for awhile and have been very pleased.
The mat is also highly portable and can be used for activities like gymnastics, cheerleading, martial arts, yoga and more! Overall, a very solid product that you will be happy with.
Cheap Gymnastics Mats for Home Use
Price and budget should never out weight safety. In this article to this point we have provide you quality and
low cost options. When you really stop and think about it when you invest in the right equipment, that is really what you are doing, you are making and INVESTMENT. You may be investing in a future Olympic star, or your investing in the right yoga mat for your own piece of mind, both are investments.
There is a difference between investing and spending money. With a little decipline there are everyday items like a $5.00 coffee that you could save money on to enable you to invest in proper equipment for whatever sport, competition, or activity your child may be involved in.
With that said, I wanted to mention another option many of our low income students have used and it has worked out quite well for them. They have found the equipment they need, when they need it, second hand on ebay. I have a few parents who as their child grows out of competition uniforms, or is ready or needs advanced equipment, they sale their uniforms and equipment on eBay and replace it with equipment they need.
Conclusion
To have a successful career in gymnastics, you have to live and breath the sport. The same can be said about anything, can't it? A dancer, softball player, cheerleader, martial arts expert. It take a love and dedication, this really is the secret. Many young people start out being gymnast, but find out it is really not their thing. They never develop the real love for the sport and don't have the dream of becoming an Olympian some day. I sincerely believe that you thing is out there, and when you find it, hold on too it. Dedicate yourself, think positive and allow yourself to persist through the tough times.

This means practicing as much as possible, including at home. While injuries cannot be completely eliminated, they can be avoided by taking proper safety precautions and using the right gymnastics equipment.
While there are many great gymnastics mat options, some are better than others. The key is to balance between a cheap gymnastics mat and one that is high quality. There are tons of considerations you should take into account: mat size, thickness, portability, durability, and pricing.​
We hope our reviews of the top gymnastics mats have been beneficial to you, and you found what you are looking for today. At Dancerholic, we want to personally wish you the very best in your gymnastics career.
We hope you find this guide helpful!