Which Gymnastics Bars is Best For Home Practice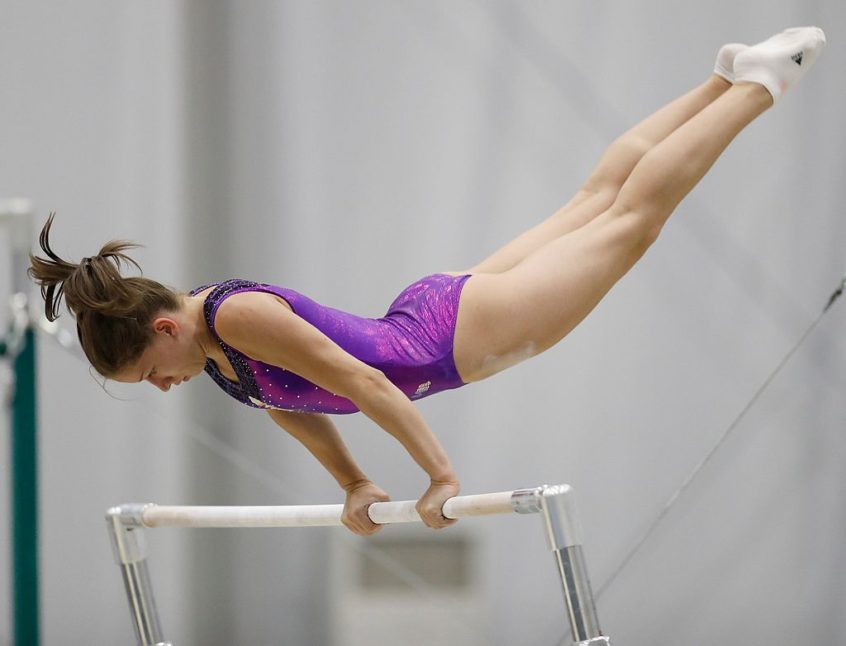 Disclosure
This post contains affiliate links. It means you're supporting us at no additional cost. How it works.
Having a gymnast in your house means that even if they've just finished a three-hour practice, they will still be flipping throughout the house. So why not get the equipment to help them with their gymnastics practice at home? If your gymnast is asking for a bar for their birthday or Christmas, you may want to know which bar is the best to get for home use.
Things to Consider When Buying a Bar for Your Home
Bars for Beginner Gymnasts
The skill level of your gymnast is important when deciding what bar to buy for them. Buying a bar for a young gymnast can be beneficial to their development in gymnastics.
If you have a beginner level gymnast then you should look into getting a Junior Kip Barr. Getting a Junior Kip Bar from Tumbl Trak, will help them train for their kips.
A kip is the most important skill a gymnast will ever learn on bars so getting that extra training at home will only push them further in the sport. Also on a Junior Kip Bar, they could practice other skills like back hip circles and cast.
Bars for Advanced Gymnasts
There is another bar that Tumbl Trak offers and that is the Junior Bar Pro. The Junior Bar Pro is for more advanced gymnasts. It would be good for your advanced gymnast to have this bar because it could be used for multiple skills.
Your gymnast could work their kips, casting, circling skills and squat-ons. Also, your gymnast could work on conditioning skills, like pull-ups and leg lifts. Working on those conditioning skills will help make your gymnast stronger, which will eventually make their skills better as well.
Click here to check it out on Amazon: Tumble Track Junior PRO Gymnastics Bar
Bars for Team Level Gymnasts
If you have a gymnast that is on a team level and is learning how to jump to the high bar, the getting the 5-in-1 Bar System from Tumbl Trak might be the best idea. With that bar set, it is possible to set the bars far apart and at different heights so your gymnast can go from low bar to high bar.
Jumping to the high bar can be nerve-wracking for a young gymnast. If they have the 5-in-1 Bar System, they could practice their jumping on a lower bar setting and by doing so, your gymnast can gain confidence and go to practice ready to take on the real thing.
The Tumbl Trak 5-in-1 Gymnastics Bar can also be easily purchased on Amazon.
Gymnastics Bars and Mats
On Tumbl Trak, they give options on whether you want to buy only a bar or a bar/mat package. Their packages include mats to go under the bar. It may be cheaper to buy their package rather than buying the mats separately.
Having the mats is a necessity. It would be safer for your gymnast to have a mat because if they fell you would not want them to get hurt. Having the mats under the bar will give you and your gymnast's coaches some peace of mind.
Getting the package will most likely be the better fit for your gymnast. Having mats will take up more space but it is better safe than sorry because you don't want to deal with any injuries. Your gymnast's coaches will appreciate the safety of mats.
There are different packages because each package comes with something different. Tumbl Trak offers one Junior Kip Bar package, three Junior Bar PRO packages and two 5-in-1 Bar System packages. All these packages include the bar (of course), a bar pad, and the mats.
Now the difference is the mats themselves. All the mats they offer are safe for any gymnast but the higher number package (2 or 3) has the most to offer.
In JR Bar PRO packages, the 3rd package comes with the most mats out of all three packages. If you are willing to spend a lot of money then the biggest package is probably the best bet for you and your gymnast.
Of course, though, I'm sure that no matter what, your little gymnast will be forever grateful for whatever you decide to get them.
Extra Equipment You Can Buy to Help Your Gymnast
Purchasing a bar for your gymnast will definitely be beneficial to your gymnast's career but there is more that you can buy to help them improve.
For example, you could purchase a floor bar. Floor bars are essential in practicing handstands and pirouettes. If you put the floor bar against the wall then your gymnast can balance on the bar and learning a handstand on bars is very important.
Tumbl Trak also has a Forster bar. A Forster bar is not a normal piece of equipment that you'll see in every gym. A forster bar can help your gymnast with clear hips and giants. It is used as a drill and can be very beneficial when wanting to practice certain techniques.
One More Thought
Tumbl Trak is a generally very good site when you want to shop for any gymnastics equipment. You can either go directly to their site or check out their listing on Amazon, you might benefit buying from Amazon if you have a Prime membership.
If you're a parent who loves to build stuff for their kids, you could also DIY a bar for your child. Building a bar could essentially be cheaper than buying one but do remember to still
March 16, 2020
Gymnastics sure isn't the easy sport and so is choosing the right gymnastic equipment. There are many challenges when choosing this type of product since the sturdiness and durability of the product are the key points to consider and we cannot gamble with untested products. Right now, we are glad to give you an idea in choosing the right product when shopping for a gymnastic bar. Wait no more, go and explore this Top 10 Best Gymnastics Bars in 2020 list right now.
Contents [hide]
List Of Top 10 Best Gymnastics Bars in 2022
Last update on 2020-05-01 at 08:45 / Affiliate link / Image from Amazon Product Advertising API
10. Nimble Sports "3Play" Horizontal Bars
The Nimble Sports "3Play incorporates a quality choice manufactured in the USA. First of all, this gymnastics bar for home meets the safety standard set in term of durability and safety. The maximum weight that it can hold is 125 lbs. You can have the choice in adjusting the height that you want to. Besides this, unlike other products, the width can be adjusted from 18 to 30 inches instantly.
With the attachment of the rubber caps, the injury can be eliminated. It is also the best product for the young children too as it aims to improve the physical development. The company of this product is willing to offer 1-year warranty.
9. Xtek Gym Gymnastics Kip Bar
Gymnastics Kip Bar brought to you by Xtek Gym is the durable kids gymnastics bar that can hold the weight up to 140 lbs. If you are looking for the expendable gym equipment, this is another great option. The height of it can be adjusted from 3 to 5 ft without any problem. For the durability of this product, the material chosen is ensured to be the superior one.
The rubber caps are added for protecting the floor when you are moving this bar around. For getting a great product with the trustable warranty, choosing this product is the right choice.
8. BalanceFrom Gymnastics Expandable Bar
For the great product that offers in an affordable price range, BalanceFrom Gymnastics Training Bar is the one you should consider. It is well known as the heavy-duty product since it is carefully constructed from the high-quality steel. This product is known to offer the sturdiness when you are training. The assembly process can be done with less time and little effort too.
Please be noted that the bar can be adjusted to suit different users. The great feature of it is the fact that it can withstand the weight up to 1000 lbs which is stronger than ordinary product. It is also backed by 2-year warranty.
7. Kids Jungle Gymnastics Expandable
The next reputable product that makes the way to the list today goes to Kids Jungle Gymnastics. This stylish gym equipment is in pink color, plus this gymnastics bars and beams is well produced for the children from age 3 to 9 years old. It chooses only the top-grade steel for the production process; as a great result, the quality given in return is guaranteed to be unbeatable.
With the size of 58 x 40 x 54 inches after fully assembled, it can support the weight lower than 110 lbs safely. For the safety of your beloved children, getting this sturdy bar is the right choice to make.
6. Z-Athletic Expandable Kip Bar & Mat Packages
If getting the high-quality product at an affordable price is what you wish for, then Z-Athletic Expandable Kip Bar is sure to fulfill your wish. The package of this product kip bar and mat comes along with the mat which makes the training becomes much more convenience. This gym tool is the user-friendly product since it allows you to adjust it the way you want easily.
And, you can get the kip bar as well as the mat for practicing the martial arts. Last but not least, the warranty given by the company is 2 years long.
5. Milliard Adjustable Height Kip Bar
Milliard is proud to introduce to you the gymnastics bar which is strong enough to withstand the heavy weight up to 140 lbs. As the name has suggested, the height of it is adjustable; therefore, you can set the right height for different types of training. Please be noted that the height should be range from 35 to 57 inches.
In the case that you are worrying about the assembly process, concern no more as we guarantee that it can be done with ease. For ensuring the convenience of the users, an instruction book is included.
4. Z Athletic Expandable Kip Bar
Being the right product for the gym lovers, this gymnastic high bar is known as Z Athletic Expandable Kip Bar. There are many options in term of color for you to choose easily too. The weight limit of this product is 100 pounds, while the height can be adjusted from 36 to 58 inches quickly. The strength of this product is undeniably great as well; hence, it is the right product to choose for your safety.
This superb product is well made for training during competitions. We wish to remind you that if any parts break within 2 years, the company will take care of it without hesitation.
3. Z-Athletic Gymnastics Expandable Junior Training Bar
The third product in the list today belongs to the outdoor gymnastics bar, Z-Athletic Gymnastics bar. First and foremost, the bar is well produced from the premium grade materials. As each part is carefully chosen, the sturdiness of it is unmatchable. This product is made for training up to 6 skills. With the assistance from this bar, we bet that you will find your training more enjoyable.
You can also adjust the height from 36 to 59 inches anytime you want too. The good news for the users is the warranty is given. Wait no more, with the great feature and awesome warranty, there is nothing to worry about.
2. Tumbl Trak Junior PRO Gymnastics Bar
Tumbl Trak Junior PRO Gymnastics Bar, the second best product in the list, is produced from the care of the expert. It aims to offer the safety of the user; that's why it chooses to use only the awesome materials. With the built-in floor stamp, you can practice your skill with the peace in mind knowing that it is very sturdy.
The installation process of it is super easy; with just a few simple steps, it is ready to be used. For added attractiveness and durability, it is powder coated as well. For your information, this product will serve you well for years.
1. Tumbl Trak Expandable Gymnastics Bar
If you are looking for the best gymnastics bar for home, we believe that Tumbl Trak Expandable Gymnastics Training Bar is the right choice. To start with the great feature of it, it is well constructed from the top quality materials. You can have the trust on the quality that it offers since it is also powder coated.
Besides its adjustability, the assembly process of it can be done in less time and little effort too. The weight that is suitable for this equipment is 124 lbs. Please also be noted that the height can be adjusted from 38 to 56 inches instantly.
Conclusion
With the list given by us, we are sure that purchasing the right gymnastic bar is now a less challenging decision to make. For peace of mind, selecting one from the list will not disappoint you. Do not hesitate to get yours, and enjoy your new training experience today.